Same Day Agra Tour By Train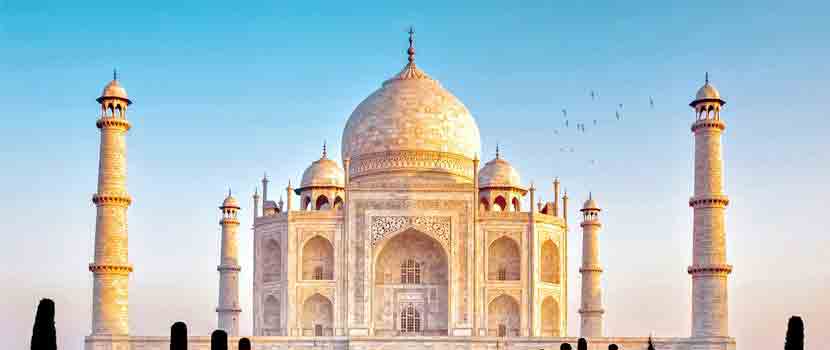 Duration : 01 Day
Destination : Mahal, Mehtab Bagh, Agra Fort and Fatehpur Sikri.
Taj Mahal, is India's crown and it was built as a symbol of love. If you're visiting India, seeing the Taj Mahal should be on your top list.. Even if you're visiting for a short period of time, you can always book a same day tour that will cover some of the most visited places in one day. Due to this reason the Indian government started a new train called the Gatiman Express departs from Nizamuddin railway station around 8.10 a.m and reaches Agra almost around 9.50 a.m . It runs for six days every week, but not on Friday as the gates for Taj Mahal are closed. The train departs from Agra around 5.50 PM and reaches Nizamuddin railway station at 7.30 PM.
Day 01: Delhi - Agra by Train
At around 7:00 am our representative will be picking you up from a pre-decided place in Delhi that you'll be staying in. He will drop you off at the Nizamuddin railway station so you can board the Gatiman Express. It departs around 8.10 am and reaches Agra around 9.50 am. Your breakfast will be served to you in the train.
When arriving at Agra you will meet our local guide at the railway station and he will help you proceed for your tour. You will begin your tour with Taj Mahal.
10:AM :TajMahal
Taj Mahal is a white marble mausoleum that took 22 years to make. Everything about the Taj Mahal is unique. It's detailed and delicate engraved designs always attract tourists. There has never been a more beautiful work of art on this planet to compare with Taj Mahal.
12 PM : Agra Fort
When you've soaked in the beauty of Taj Mahal, you will be taken to another mughal site of wonders. The Agra Fort is where the mughals resided. It's a humongous fort made with red sandstone. Akbar the great mughal emperor was the first one to settle there. It is at a distance of 2.5 kilometers from Taj Mahal.
1:00 PM Lunch and exploring Fatehpur Sikri
After visiting the very intimidating Agra Fort it will be time for lunch. You can try any food that you may want to try and also the restaurant will have air conditioning. After your fulfilling lunch you will be headed to Fatehpur Sikri which used to be the capital of Mughal Emperor Akbar. It is around 35 kilometers from Agra. After exploring Fatehpur Sikri you will be taken to the atmospheric bazaars of Agra , where you can find souvenirs .
Around 5:30 PM you will reach the station from where you'll be boarding a train which will depart at 5:50 PM. Your dinner will be served to you in the train. On reaching Delhi Railway station you will be safely dropped to the place where you were staying. This is the end to your same day Agra tour.